"Interactive and graphical interfaces built to help your team drive your business."
Sequoia has always believed in knowledge transfer, enabling the client through the transfer of skills and tools, delivering the ability to continue to drive results long after our assignment has finished. Robust, user friendly spreadsheets are a key element of our offering. More recently we have embraced web-enabled applications, facilitating the deployment of tools around the world.
OnTarget being our biggest development to date.
OnTarget has identified $30 million in inventory optimisation benefits from the latest 3 deployments
OnTarget – Safety Stock
It is the best-in-class Inventory Optimisation tool that in addition to setting statistically robust targets, that reduce stock by 10-25%, whilst protecting service:
Feedback on Forecast performance is provided, meaning that targeted forecasting improvements can be quantified
Obsolescence risk is displayed meaning that it can be quantified and managed for SKUs with short shelf lives or large minimum batch / order quantities
Variants are incorporated, meaning that the churn of product SKU codes and variant mappings can be managed, ensuring appropriate inventory targets
Seasonal profiles can be created, meaning that the variability in different parts of the year can be buffered appropriately with safety stock
What-If scenarios can be run, meaning that improvements or changes in working practices can be quantified and communicated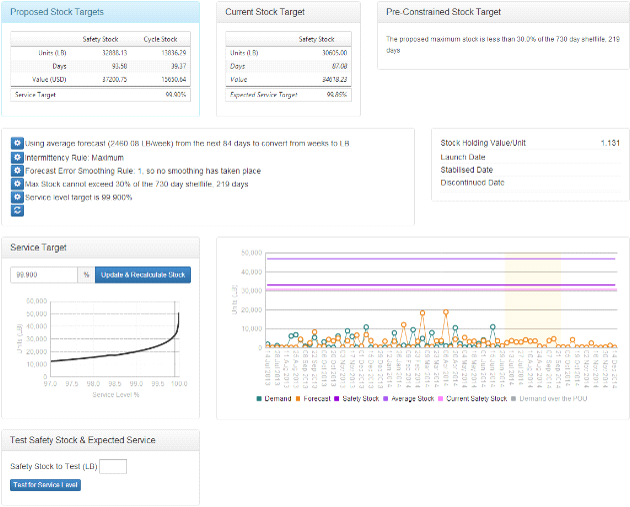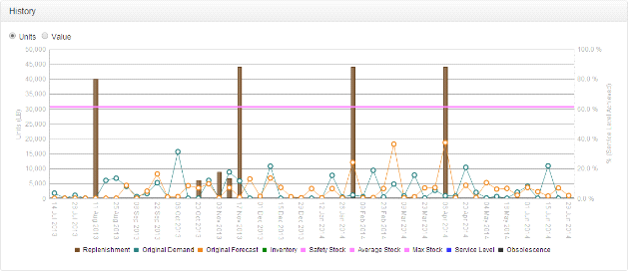 Once planners and Supply Chain Directors see how OnTarget uses their data and allows them to really drill down and understand the drivers of their stock, they don't want to go back!
Don't take our word for it, see the video below which shows the graphical interfaces and how user friendly OnTarget is:
OnTarget creates incredible value for your business, due to its incredible success the development team have created further modules that help build on this success.
"Service has never been so high and stock so low."
How do I reduce working capital in my stock, after my safety stock targets are right?
After a successful implementation OnTarget one of our clients wanted to know what the next steps were to further optimise their inventory management. It's fair to say we had a few ideas and were happy to help!
OnTarget – Safety Stock Economic Order Quantities
The EOQ module within OnTarget has already been deemed Best of Breed by one of our global clients, despite its recent release.
For the first time, planners and purchasing professionals are able to view and visualise the most economical way of purchasing raw materials. Strongly data driven, with an intuitive, informative graphical interface, the EOQ module reflects the complexities of tiered pricing, complex freight modes, the cost of stock and the risk of obsolescence to provide insights which drive economically sound purchasing decisions. Available in addition to Inventory Management or as a stand-alone module, this is a first in data driven purchasing optimisation.