An inventory policy that takes in to account ALL the variables?
A large, complicated, Direct Sales client has experienced consistent and challenging sales growth and ever increasing geographical and SKU complexity. Forecasting is distributed to markets and procurement is via a globally distributed supply base.
The net result is that inventory management priorities are extremely difficult to assess and communicate.
Sequoia were asked to build an inventory policy model, leverage several of our skills:
Solid core code components that robustly evaluate the relationship between inventory and the business parameters that drive inventory holding;
The ability to deal with large complex data sets;
The knowledge to create interactive, graphical tools.
We built a Board / Exec level, graphical policy tool that could both be used to evaluate inventory improvement initiatives and communicate them around the business from the Exec and out to the markets.
Has selectable scope – allowing analysis to be performed at a total company level, or with a selected subset of countries, brands and categories;
Computes aggregated inventory driving parameters (e.g. Forecast Accuracy and Lead Time) across the selected data set;
Provides a graphical display, with selectable parameterised axis for managers to display the information in a way which suits their purpose;
Facilitates What If analysis of improvements in driver parameters;
Allows drill down to individual SKU / location level to better understand the source of problems or improvements.
What figures should I use to set replenishment & purchasing parameters?
The days of clunky safety stock tools or back-of-an-envelope EOQ calculations is over.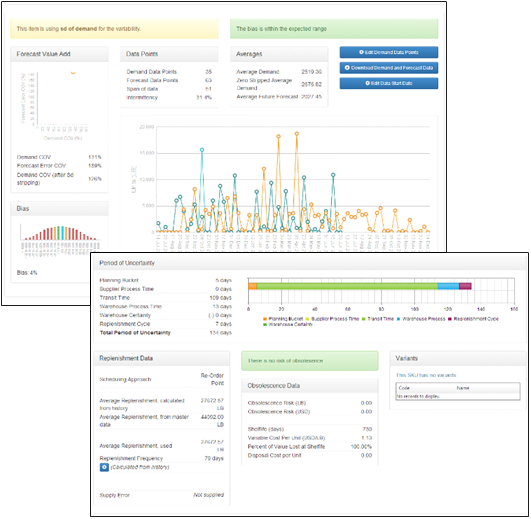 After years of assuming someone would create a tool to set ERP parameters precisely, Sequoia has developed our own. OnTarget is our web-enabled Inventory Management application, which encapsulates over two decade's worth of experience in setting FMCG parameters.
Incorporating the complexities of FMCG reality; variants, seasonality, events, intermittence and obsolescence risk it has transformed performance wherever it has been deployed. The graphical interfaces and presentation of science-based parameters facilitates rational discussion and challenges ways of working. For a more in-depth understanding, please visit our dedicated OnTarget page.