Overview
Our Client had made a major acquisition in dry foods manufacturing – increasing the number of European production sites to 19 and production lines to 297.
The Supply Chain infrastructure was a combination of existing and acquired assets.
Sequoia completed an initial Greenfield study – to size the prize of restructuring and give some direction. This identified potential savings of €100 million p.a. by moving to an optimal theoretical network.
Then we undertook a more detailed study, to create a financially justified restructuring plan:
Identify specifically which sites should grow and which should go
Be specific about the types of production facilities which should be retained / created in each site
Identify short term opportunities to re-map production and/or relocate production facilities to gain savings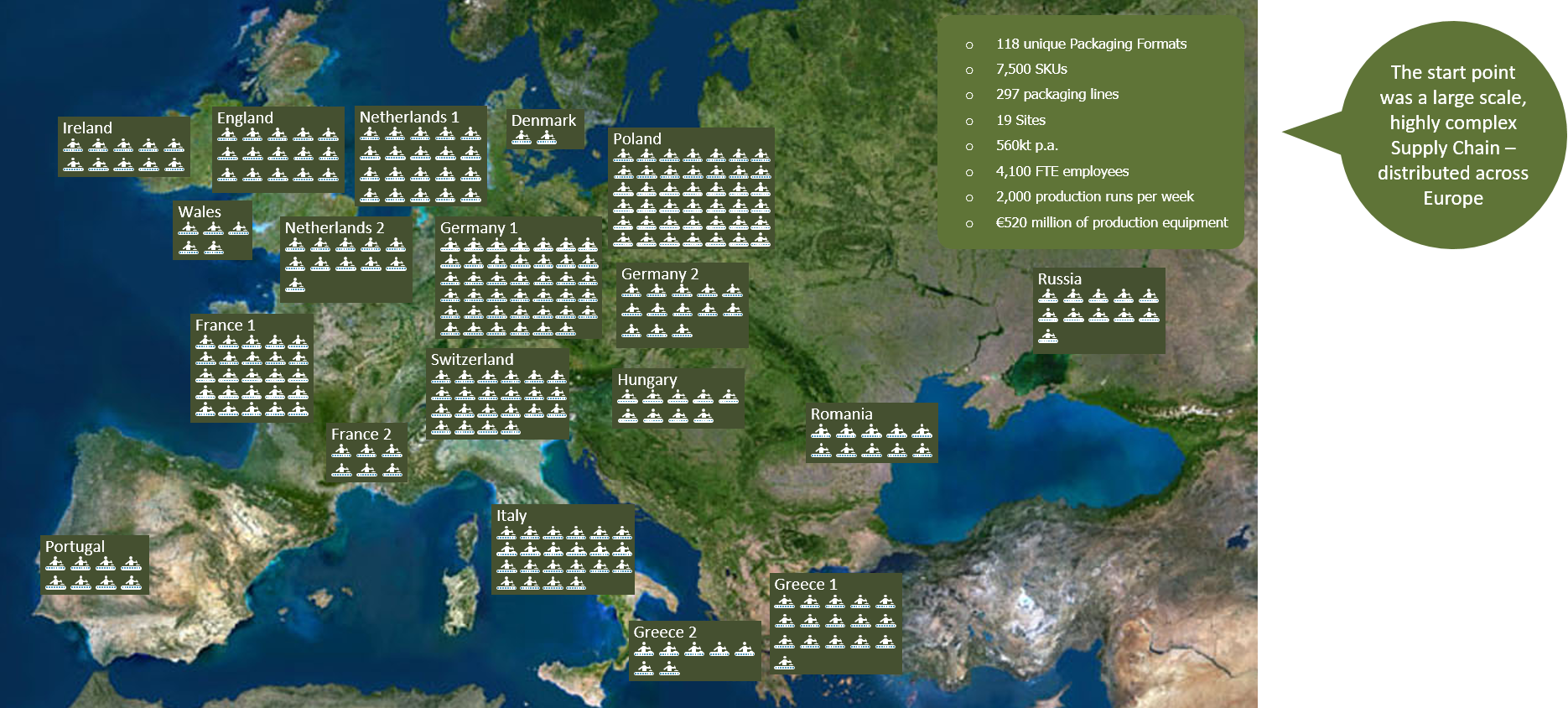 Approach
The Network was both large and complex compared to most FMCG networks:
In order to model the Network, we had to identify and characterise every packaging and process line within the Network. We also had to categorise the product range into Packaging Formats – so that we could use an optimising algorithm to match demands to production capabilities.
There were:
118 unique (non interchangeable) Formats across;
297 packaging lines; within the
19 Factories included in the study.
As well as splitting the product range by Format, we further subdivided it:
By ABC category – so that we could explore the cost impacts of focusing factories on either volume or complexity; and
By channel so that we could evaluate the benefits of focused Food Solutions factories.
The volume mapping onto lines had a vast number of permutations. Because of this we used a Genetic Algorithm based optimiser – to ensure that like for like comparisons of Base Case years and Restructuring years were conducted objectively.
Results
After the detailed study of the Supply Chain, looking out over the next 10 years, we confirmed:
The Supply chain is under capacity in some Technology Groups but has a significant excess of capacity, lines and sites in others;
There is a considerable need for investment, restructuring and rationalisation to:

Rebalance the Supply Chain to better fit its future challenges; and to
Leverage low cost sourcing opportunities to match competitors
Hence – we developed an investment and restructuring programme which will, over the next 4 years, enable the development of a leaner, fitter supply chain with 26% lower end-to-end conversion cost.